Exam from Home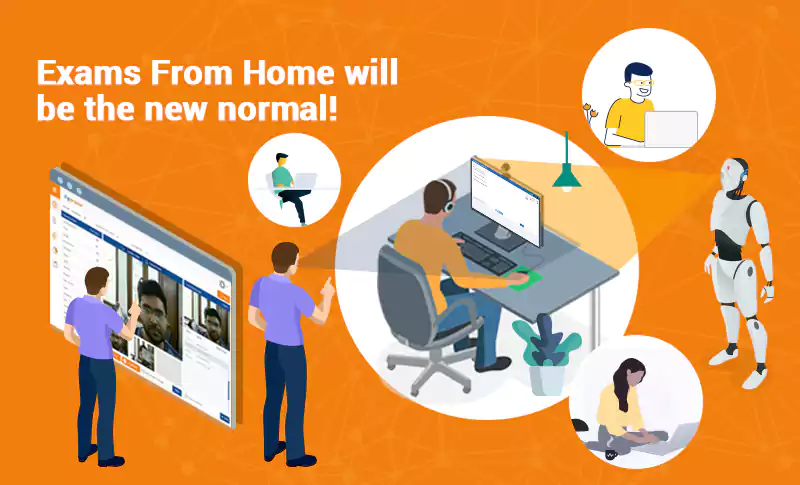 Exams from Home will be the new normal!
While Lockdown 5.0 (Unlock 1.0) will be executed with some relaxation to boost the economy, educational institutions – stakeholders and parents - will exercise restraint in opening the doors of their institutions. How to conduct the semester examination is looming large on our minds? Alternative ways to administer examinations with the same credibility (or even more) than an onsite exams are being explored.
Educational institutes can move all the onsite examination management and result processing processes securely online with DigiProctor – Human Augmented AI-enabled Online Examination Proctoring Solution.
DigiProctor (Next Generation) Advanced comes with enhancements - unmatched features to address all the challenges faced by the examination bodies. It provides much higher security, integrity and assurance of remote exams and also increases the user experience of students, COE and test evaluators.
Exams on the Go
DigiProctor has comprehensively enhanced its mobile-based test taking that caters to all possible test taking scenarios, (1) mobile test taking app solves the problems of students who do not have access to laptops (2) subjective answer (Upload) app allows students to attach handwritten answers and diagrams in their test paper.
Human Augmented AI-Proctored Virtual Rooms
Human augmented proctoring feature of Advanced DigiProctor allows institutions to assign "human" proctor(s) to single/multiple virtual rooms for Live invigilation. Students take their "Exams from Home" and are proctored by artificial intelligence, which in turn gives insights to "human proctors" to take action in real-time.
Human Proctors can deter any aberrant behaviour of the student during the exam by using:
Chat – students are issued warnings prior to any stringent action is taken
Pause – student's test is paused to warn them or do a test environment scan
Terminate– student's test is terminated by Chief Invigilation Officer
All actions taken by the "human proctor" are logged for review.
In addition to this, real-time broadcast notification to all students taking the test can be made through a central console by the Controller of the Examination (COE).
Virtual Vigilance Console
COE can pay a visit to any Virtual Classrooms in real-time to ensure the use of fair practices during the conduct of the exam.
DigiProctor Advanced brings in much more credibility, convenience, and centralized control for educational institutes to conduct examinations.
Exams on Demand
Not just tiding over Covid - but other benefits too!
Currently the big problem looming over institutions minds is tiding over the restrictions imposed by Covid (which Digiproctor comprehensively addressees), there are benefits too for institutions in the 'new normal.
Digital remote online exams ushers in high productivity in the critical examination process of institutions - exam planning cycles can be crunched, more frequent and 'on-demand' tests can be conducted, evaluations and result declarations can be much easier and quicker, question paper setting and answer paper evaluation done online can bring in huge productivity and time gains, the experience of students is much better, and cheating and impersonation during exams is significantly curbed.
Therefore, while digiproctor provides you the perfect answer for your Covid-related concerns, it does much more for you. Your institution is perceived as a digitally savvy brand, and you gain major cost and productivity gains.
At DigiPortcor, we are continuously innovating our solution to meet every aspiration and ensure that Exams move online just as education has.