In 2022 about 67% of organizations in India increased their L&D budget. But a bigger budget doesn't always ensure that L&D is effective. 70% of Indian employees surveyed aren't satisfied with their companies' L&D functions.
By measuring the effectiveness of their training programs, L&D can track if employees are benefitting from the courses offered and whether intended business outcomes are being achieved. Positive benefits of training programs would result in higher employee satisfaction with L&D services, more management support, and continued investments for L&D.
Therefore, defining KPIs of the training program and having a clear approach to measure the results of training is a fundamental requirement of L&D.
DIGIPROCTOR CAN HELP YOU MEASURE THE EFFECTIVENESS OF YOUR TRAINING PROGRAM
Digiproctor follows the Kirkpatrick evaluation model, which is a globally recognized method of evaluating the results of training programs. Qualitative and quantitative metrics are provided by Digiproctor that can help L&D quantify the value being added with the training initiatives.
Digiproctor helps L&D correlate the results of the training program against three of the four levels of Kirkpatrick model's criteria: Reaction, Learning, and Behaviour. This helps L&D obtain a clear insight into the effectiveness of the training program and identify areas where the program requires to be optimized.
Level-1 - Reaction:
Digiproctor measures whether employees find the training engaging and relevant to their jobs.
On completion of the training, employees are presented with an easy-to-complete feedback survey comprising a set of Likert questions to rate their experience. Their responses are used to generate insights into aspects like the relevancy of the training to their jobs, topics that require optimization, and how engaging the training was.
Furthermore, Digiproctor uses the employee enrollment and completion statistics to derive quantitative insights of the training program like net promotor score; course completion rate; and learner drop-off rate. These metrics help L&D gain a clear understanding of how employees are perceiving the training program.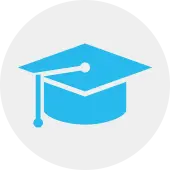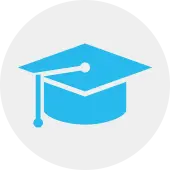 Level-2- Learning:
Digiproctor measures whether employees have acquired the intended knowledge and skills from the training.
The effectiveness of the training program is quantified by measuring the difference between the scores obtained by employees in pre-training assessment as compared with after-training assessment.
Digiproctor online proctoring assessments solution ensures exam integrity. Non-proctored assessments cannot stop cheating or impersonation. For example, it cannot stop employees from asking others for answers, or having a co-worker take the assessment on the employee's behalf.
Digiproctor proctoring software prevents cheating and impersonation during the online assessments, which provides L&D a factual representation of the employee's level of knowledge. This is particularly useful if employees' performance in the training program forms an input for deciding incentivization, internal mobility or promotions.
Level-3 - Behaviour:
Proof of the pudding is in the eating. Digiproctor smart online exams can help L&D measure whether employees are actually applying what they have learnt in the training program at their workplace.
Behavioural changes in employees who have participated in training programs is typically evaluated through feedback surveys that asks employees' managers on the changes noticed after the training program.
Digiproctor can create a secure OTP access-controlled portal, which hosts custom-created Likert-based feedback forms that managers access to input their employee-related feedback. Feedback provided by managers is encrypted and visible only to L&D.
The portal can be hosted internally on the company's Intranet or cloud-hosted by Digiproctor.
Conclusion:
You cannot manage what you cannot measure. For L&D measuring effectiveness of training programs is vital. DigiProctor remote proctoring solution can help you measure the effectiveness of your Training Program!
Digiproctor L&D offers a smart platform to support your learning programs:
Transform your Word and PPT content into SCORM and Video format
Deliver training content from cloud-hosted streaming servers to mobiles and laptops
Integrate online proctored exams for pre-training and after-training evaluation
Provide customized participation and excellence certificates to learners, and
Obtain learning analytics and insights into the effectiveness of your learning programs.